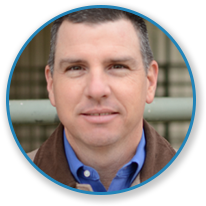 Jeremy Price
Jeremy graduated with a Bachelor of Science Degree in Animal Science from Tarleton State University in 1994 and a Master of Science Degree in Physiology of Reproduction from Texas A&M University in 1997. After managing a purebred Angus operation in Oklahoma and a commercial cow/calf operation in the Texas Panhandle, he began a career in embryo transfer in 2002. In 2006, Jeremy moved to the Sire Services division of Ultimate Genetics. Jeremy opened Integrated Breeders Service in May 2010.
---
Zach Kahn
While attending college, Zach managed the Texas Tech University Ranch Horse Center where his responsibilities ignited his interest in reproduction technology.  For 8 years, Zach worked at Select Breeders Southwest as a technician and breeding manager.  His duties included collecting stallions, freezing semen, breeding and foaling mares.  In 2016, Zach joined the IBS team as a reproduction technician.  Zach oversees day-to-day operations at Integrated Breeders, both with bulls for semen collection and cows for reproduction.   His background and vast experiences made his addition to IBS valuable for bovine reproductive services. 
---
Gretchen Vilas
In 2017, Gretchen graduated from Texas A&M University with a Bachelor of Science degree in animal science.  Gretchen was actively involved in the Texas Aggie Cattle Women organization and worked at IBS while attending college.  Gretchen gained hands-on experience at IBS while working in many facets of the IBS system from storing the inventory, handling the livestock and working in the laboratory.  Gretchen currently manages the health and certification of bulls in boarding and coordinates exportable semen for our clients at IBS in addition to semen collection and insemination of cattle.
---
Zane Kantor
---
Darron Cook
---